The Checklist app requires that you sign in to your 100% FREE checklist.com account. Here are some benefits of sign-in:

All your checklists are backed up to the cloud so if you lose your device, accidentally delete the app or otherwise, your work is not lost
You can also access your checklists from anywhere using our Checklist Browser App
You can sync your work automatically to more devices (e.g. a tablet)
You can collaborate with others by sharing checklists and assigning tasks
You can upload attachments to tasks
You receive important updates

You have two options for signing in:

Email
Social (Google or Facebook)
Once you have gone through the app Tour at startup, you will reach the Sign in page:


Social Sign In
You can save time by clicking on either the Facebook or Google buttons. After a short confirmation on Facebook or Google popups, you will be logged in and your checklists synchronized with the cloud.
A word about privacy: We never post on your timeline. The social login is simply used to authenticate you.
Sign In using Email

If you wish to use your email, simply enter it at the "Your Email" prompt. As soon as the email entered becomes valid, the Next button will activate and turn Orange. Click on it.

Registering
If you have not created a Checklist account before, the Register page will be shown:




Enter your name and choose an appropriate password. As soon as you enter valid name and password, the Register button will activate and turn Orange. Click it to register. You will get a confirmation pop up and you will be taken to the login page. Make sure you confirm the validation email we have sent you before clicking on Login. 

Login

If you already have an account you will see the login screen: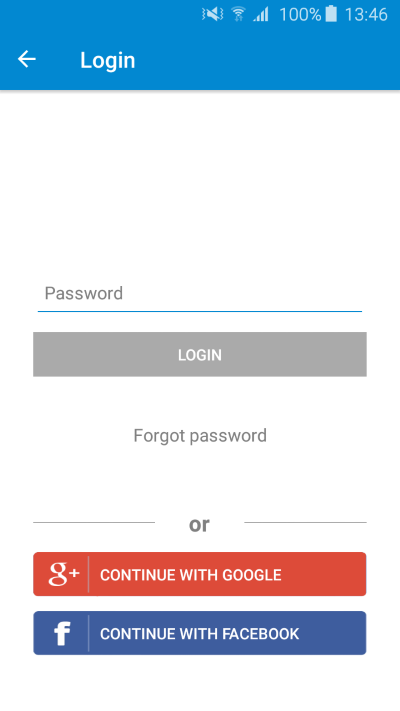 Enter your password. The Login button will activate and turn Orange once you enter a valid password. Click on it and you will be signed into your account. Over time, your checklists will automatically sync with the cloud whenever you have internet connectivity. 

If you have forgotten you password, you can click on "Forgot Password". On the next screen, verify you have the correct email and click the button to send a confirmation email. Follow the instructions on the email you receive to reset your password.