How to use the Checklist Widget
The Checklist widget is very useful in letting you quickly see what's important. Add the Widget just like you would add any other widget (this may vary depending on your device):

On your device, scroll to the page you wish to add the widget to
From your device Home page click on "+ Add apps and widgets" (possibly a long press on the screen)
Select Widgets
Scroll until you see the Checklist widget
Select the widget
Place the widget on the page. 
You may re-size the widget
The Widget checklist selector page will open: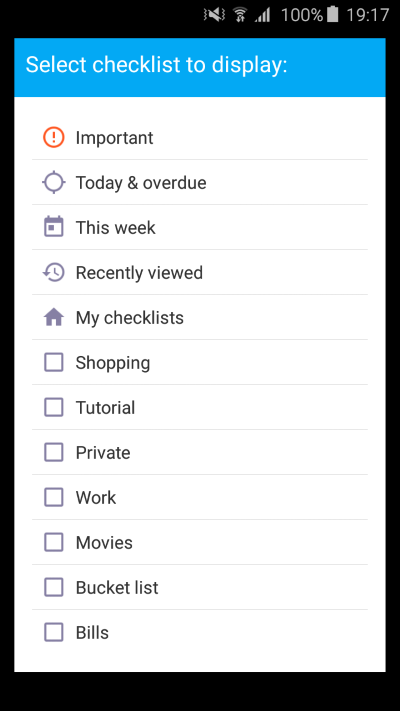 On the checklist selector screen you can choose which Checklist you wish to display on the widget. You can choose from My Checklists which will show all your checklists, a smart list or a checklist.
Once selected, the screen will close and you will see the device screen with the widget on it: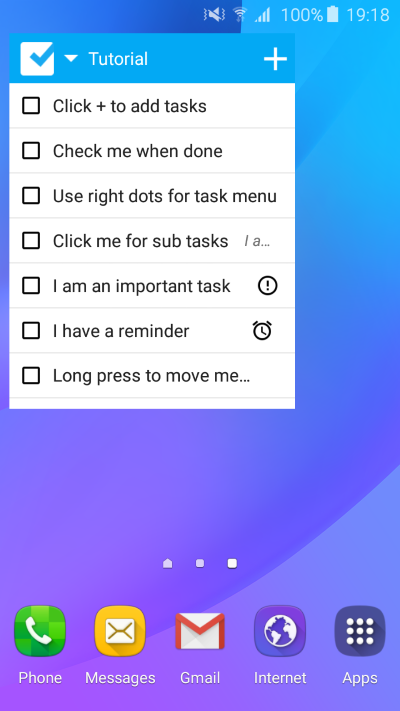 As the image above shows, the widget is consists of:

The Checklist icon. Clicking on it will open the app. The last opened checklist/ task will be 
A "Down arrow" which will open the Checklist selector screen so that you can select a different checklist to show on the widget
The name of the list currently displayed. Clicking on it will open this checklist in the checklist app.
A + button. Clicking on it will open the Add Task screen in the app.
The tasks. All open tasks within the selected checklist are shown.

Each task on the widget has:

Checkbox. Clicking on it will mark the task as completed and remove it from the widget (since we only show open tasks).
Name. Click on the task name to open it in the Checklist app
Notes (optional). Shows the task notes.
Important icon (optional).
Reminder icon (optional).
Tip: You can place on your device as many widgets as you like and each one can be set to show a different checklist.

Note: we have strongly resisted the urge to develop the full functionality of the app in the Widget. Please remember that the Widget is simply a view to the app and most functionality should be handled from the app itself. This is also in accordance with the Android design guidelines.