Playing a Checklist


The Checklist Players let's users "play" checklists: easily move from one task to the next checking off, selecting options or entering data to requested field types. The responses are recorded and can be used later for auditing, performance reviews etc.

Note: To Play a checklist, you (or someone on your team) needs to run/ schedule a checklist template. To create an organization and templates, visit Checklist Pro.

To start "Playing" a checklist, you need to select the Play icon on the Checklists tab:




The Checklist Player screen will open. Here is the example for Hotel Room Checklist:




You can always open this page by clicking on the Help icon at the top middle of the page.
The Player Layout
The Checklist

In the middle of the screen you will find the checklist card. As you can see the checklist is the first task and below it are its tasks.

The Checklist cards are similar to the tasks so please see below for how to work with them.

Tasks

The checklist tasks and sub tasks are under the checklist name. Each task is placed within a card as follows:

A checkbox

The task name
Optional Important flag
Optional Assignee avatar. If the task has been assigned to a user, their avatar will be shown and only they will be able to make changes to the task.

Open User Notes button (the note icon). Clicking on it will open the User Notes at the end of the card to allow the user to enter/ edit notes.

Optional Task notes. In the above example the Drapes task has "Clean, dusted and open" as task notes.

Optional User notes (in red). In the example below the 6 cans task has the user notes: "Refilled 1 zero and 1 sprite". Clicking on the User Notes will open the edit mode and allow you to make changes to them.

Tip: "Task Notes" are set by the editor of the checklist and cannot be changed. On the other hand, "User Notes" are set by the person "playing" the checklist and can be added, edited and deleted by him/ her.

Levels
Tasks can have multiple levels of sub-tasks. Each lower level task will be further indented to the right. In the example above you can see that the 6 cans are a sub task of the Mini Bar task. Tasks are automatically marked as completed (checked), once all their sub tasks are completed.

Task Types

Tasks can have different types which are set by the checklist template editor. The type determines what kind of answer is expected. Examples are check, choice text, long text, number, date/ time, email, URL, file. See Task Types for more details.

Playing

Once you have opened a playable checklist you can immediately start going through the tasks checking or selecting options. Scroll down as you progress through the list. Here is an example of what our Hotel Room Cleaning checklist would look like: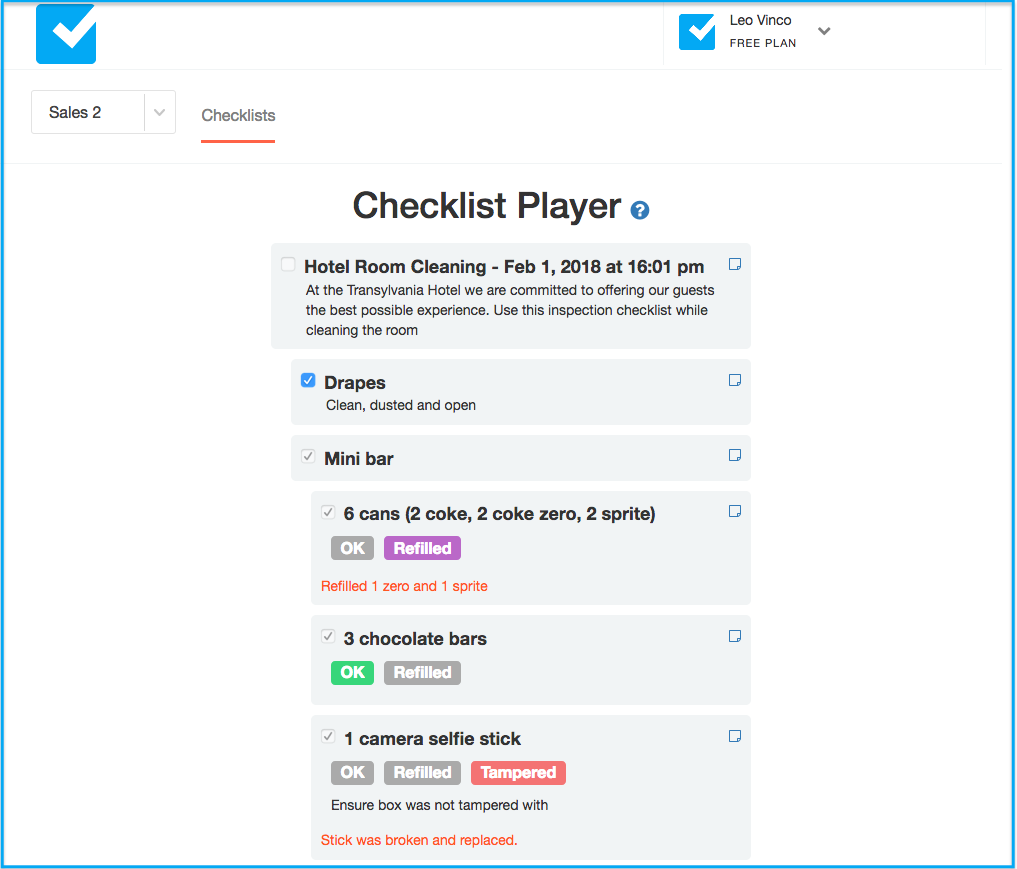 Note on Playing vs. Triggering: When a Template is triggered a Checklist is created. This checklist can then be Played. Only a user with the role Runner can Run a template.


Next: Read about Viewing Checklist Play Results